NHS workers protested against mandatory vaccine rules across England. Those who refuse the vaccine will be fired.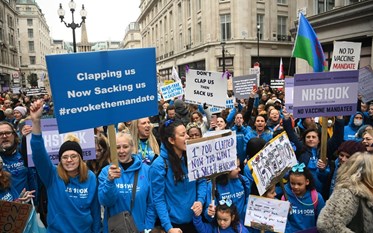 In London, dozens of health workers were seen throwing their scrubs at police officers outside Downing Street while others laid down their uniforms in Trafalgar Square.
 
One Ambulance worker's uniform was left hanging in Regent's Park, with a message written on the back, reading: 'Paramedic 9 years, clapping on Thursday, spat out on Monday.' 
 
The so-called 'freedom rallies' were also held in Manchester, Birmingham, Leeds and Newcastle, where protestors held up signs reading: 'No vaccine mandate' and 'heros to zeros - from clapping to sacking'.  
 
Although the UK's mortality rate has dropped massively as more people have been vaccinated, some anti-vaxx nurses maintain the life-saving jab is an 'experimental drug'. More than 80,000 NHS staff – 6% of the workforce – remain unvaccinated despite repeated efforts to boost take-up. 
 
It comes before all frontline workers who have not received a jab will be called into formal meetings from February 4 and given a warning that they face dismissal.
 
NHS England guidance says notices will then be issued from that day, with March 31 marking the end of the notice period.
 
All frontline staff are required to have both doses of the Covid jab by April 1, meaning that by February 3 the first jab must have been given. 
 
The demonstrations Saturday came as the Royal College of GPs called on the Government to extend the deadline to prevent mass staff shortages in the health service.
 
Chairman Martin Marshall said compulsory vaccination for health professionals was 'not the right way forward' and about 10% of staff at some hospitals and GP surgeries had not had the Covid jab.
 
Protesting in London, ambulance worker Christabelle Gregory, 32, said: 'People were once clapping for us but there's no appreciation any more. I'm young and I've got antibodies from working on the frontline, so I don't want the vaccine.' 

Why is it law for care workers in residential care homes to have the Covid 19 vaccine when NHS staff do not? NHS staff are around vulnerable patients like care workers, so should the vaccine law be dropped for care staff or be upheld for the NHS staff?