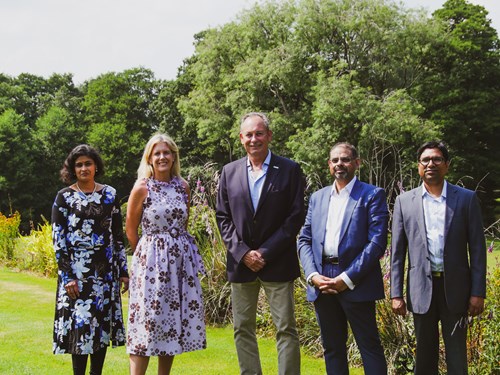 It was a day of celebration and education at the home of Pertemps Network Group when 4 new franchise partners of Network Healthcare share a great day meeting an array of support teams who are the back office of any franchisee that joins the growing network of homecare and recruitment branches.
The day was hosted by Paul Hanke, Founder & Managing Director, alongside Gavin Chase, Director of Brand Partnerships, who welcomed Gary, Amir, Caroline, Priya & Partha, introducing the new entrepreneurs to the Group Head Office team of IT, marketing, finance, payroll and credit control professionals who will be supporting them as they launch and grow their businesses in the sector.
With over 60 years of experience in recruitment and 20 years as a homecare provider, our franchisees were educated in the vast array of support that will take away the burden of many issues that start-ups face in the early days and will ensure that they can focus on the day to day job of recruiting carers and placing them with service users in their local communities.
Our franchisees also took the opportunity to work with professional videographers, giving them a taste of working with the media and learning the art of presenting clear messages as to their commitment to quality provision of care in partnership with Network Healthcare.
Hailed as a success, informative and providing a clear insight as to what lays ahead in their exciting ventures!
If you are interested in finding out more about how you could start a successful recruitment & homecare provider business, supported by a market leading back office team, then email Gavin Chase, gavin.chase@networkhsc.co.uk, or simply call him on 0121 728 8958