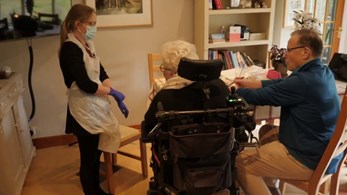 Thousands of care workers have already left their jobs after refusing to get the mandatory COVID vaccine and many are off sick isolating with COVID, leaving care providers struggling to cope with the shortages. By April 1st it is expected for all care staff to be fully vaccinated to work, this further limits the amount of staff that could be hired.
This has led to 43% of care homes closing to new residents and 66% of home care providers refusing new requests for care. Alongside that, 21% of home care providers are handing back their existing packages. This is a staggering amount of unmet care that should be brought to light, many clients are left uncared for or are being given inadequate care.
Vic Rayner, chief executive of the NCF, which carried out the research, said: "It is unacceptable that yet again, nearly two years on from the start of the pandemic, we continue to see enormous pressures in the care and support sector, this time compounded by the impact of Omicron.
"Staff shortages are excessively high and everything must be done to support providers to operate safe and quality services, so that people have access to the care and support they need, when they need it."
Care providers reported 18% vacancy rate and 14% of that is because of the Omicron variant. This just highlights how big of an impact COVID has had on the care sector.
The impact of staff shortages is putting unbelievable pressure on the existing staff members. Providers are having to be much more reliant on agency staff, with high associated costs, with some members being quoted hourly rates of over £30 for front line staff, and up to £50 for nurses.
One care provider told NCF: "We currently have a national staff turnover of 39% with 44% in the South".
Another said: "The situation changes by the shift let alone by the day. It is firefighting every day and prioritising delivery of care over other responsibilities."
This just shows how quick staff come and go for care providers, it can often be like trying to drain water out of a sinking ship.
If you think you can make a difference and would like to become care worker you can apply for a job with Network Healthcare click here.