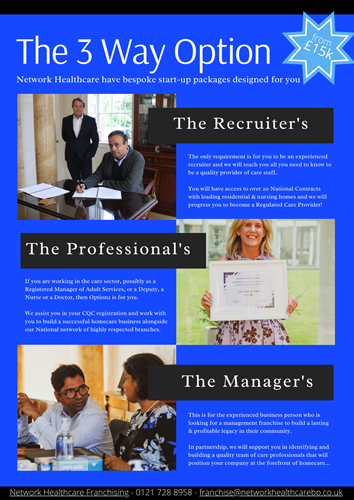 Network Healthcare

 

know how to blend the backgrounds of individuals into successful business owners within the homecare sector.





We call it the 3 Way Option.





Each journey of learning and progression leads to the same goal but by different paths dependent on WHO YOU ARE
The Recruiter's 
The only requirement is for you to be an experienced recruiter and we will teach you all you need to know to be a quality provider of care staff. You will have access to over 20 National Contracts with leading residential & nursing homes and we will progress you to become a Regulated Care Provider! 
The Professional's
If you are working in the care sector, possibly as a Registered Manager of Adult Services, or a Deputy, a Nurse or a Doctor, then Option2 is for you. We assist you in your CQC registration and work with you to build a successful homecare business alongside our National network of highly respected branches. 
The Manager's
This is for the experienced business person who is looking for a management franchise to build a lasting & profitable legacy in their community. In partnership, we will support you in identifying and building a quality team of care professionals that will position your company at the forefront of homecare...
Low initial investment - full invoice factoring - full payroll service - marketing - IT - training - national contracts - policies & procedures - ongoing learning - 20 years operational experience - extensive branch network
If you are interested in exploring a new business venture in the homecare sector with a highly experience and well regarded brand in the regulated care sector then call our Director of Brand Partnerships, Gavin Chase, on 0121 728 8958 or email gavin.chase@networkhsc.co.uk